Achieve Excellence in Well Test Analysis on Oil and Gas Producers
We provide services in well test design and analysis on all types of wells and reservoirs worldwide. We help you to obtain the best quality data and interpret production shut-ins. We can also re-analyze old data or challenge previous interpretations.
Production PBU Analysis
Why analyzing PBUs from production wells?
Define initial well performance and assess completion performance in a post well review (well damage, skin elements, permeability, connectivity and initial pressure).

Due to the transient response, a combination of rate and pressure measurement points doesn't define well productivity, in particular for a vertical well in low-mid permeability reservoir, a fractured well or a horizontal well.
Have a cost-effective surveillance and diagnostic tool thanks to opportunistic shut-ins,

Monitor and predict performance over time,

Detect performance deviation and understand its causes,

Assess well intervention,

Quality control rate measurement,

And much more…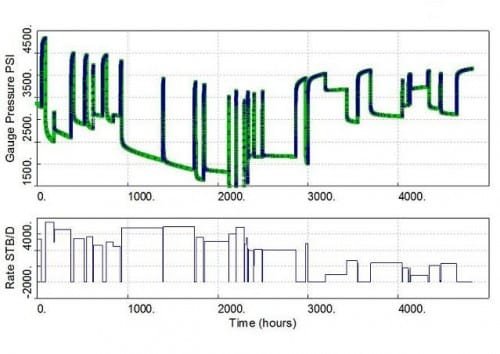 Each opportunistic shut-in could be analyzed -provided enough resources and expertise- to understand and monitor well and reservoir performance over time, and detect the causes of performance deviation. Much more information could be extracted and learnt from analyzing your data.
Services in Oil and Gas Production
Provide surveillance best practices and test procedures for best quality valuable shut-ins.

For new well delivery:

Provide justification for downhole gauge and planned shut-ins,

Ensure the data processing system is adapted to pressure transient analysis,

Design planned shut-ins to acquire valuable data with minimum duration.

Use every shut-in as an opportunity to learn:

Evaluate reservoir and well production efficiency and completion strategy,

Monitor well performance over time: damage, effective permeability, perforation height, horizontal flowing length, frac length and conductivity, pressure support problems, etc…

Track reservoir pressure to monitor connectivity and recovery process,

Perform multiphase flow analysis.

Understand performance deviation:

Detect water front, predict water breakthrough and support lab-derived relative permeability curves,

Detect fluid breakout before the situation becomes irreversible,

Spot blockage, sand fill, etc…

Avoid a costly well intervention and get a more efficient treatment to successfully target the problem.

Design data acquisition strategy during an intervention and assess the impact of the well treatment while minimizing the intervention and shut-in time.

Re-interpret pressure data using latest tools (including deconvolution) and techniques.
Let us have a look whether we can help.
Please

contact

us or fill the form below:
Well Test Analysis helps to monitor oil and gas production.
Quicklook review of design or analysis
Simply send us your presentation or report via the Secure File Transfer. We will send you our comments, explain what could be missing, improved or better explained, and what other solutions are possible. Get the most out of your data !
Join the Well Testing Group
Place where members can learn, share case studies & best practices and challenge each other. Receive information on well test design and analysis and join-in to audio teleconference sessions.
Get access to more resources, ideas and help with our library.
Confirmation of discovery and productivity

Clean-up and rate measurement

Large volume fluid sample

Well and reservoir performance

(skin, KH, Pi, heterogeneity, boundaries)

Reservoir connectivity & proven volume

Flow behaviour around wellbore

Large scale of investigation (100-1000s ft)
Well testing in exploration and appraisal could point out to reservoir compartmentalization problem. Knowing this type of problem would prevent a field development train-wreck and huge financial losses.
Use of opportunistic shut-ins
Track permeability, skin, reservoir pressure
Monitor performance over time
Understand performance deviation
Assess well intervention
Quality control rate measurement
No other alternative to:
obtain large fluid sample

evaluate permeability over large distances (~100s-1000s feet),

assess well damage (skin)

investigate connectivity over large volume